Lights, Camera, Anthem! Ten learners from Cork ETB's National Learning Network took to the stage at the ETBI Annual Conference which was held in Cork City Hall to premiere a song they composed that had been chosen by Riverdance composer Bill Whelan, rapper MuRli and RTE's Ellen Cranitch as the anthem of more than 340,000 learners across Ireland's 16 Education and Training Boards (ETBs). Listen to the anthem below or click this link.
Find Your People, written by ETB learners aged 16-33 years on the Cork ETB funded Skills for Life programme at National Learning Network in Hollyhill, was selected as the winning entry in the ETB Anthem Competition launched in March by Education & Training Boards Ireland to celebrate 10 years since the establishment of Ireland's Education & Training Boards and core values of the largest state providers of education and training. The initiative was run in partnership with Music Generation, Ireland's national music education programme that transforms the lives of children and young people through access to high-quality performance music education.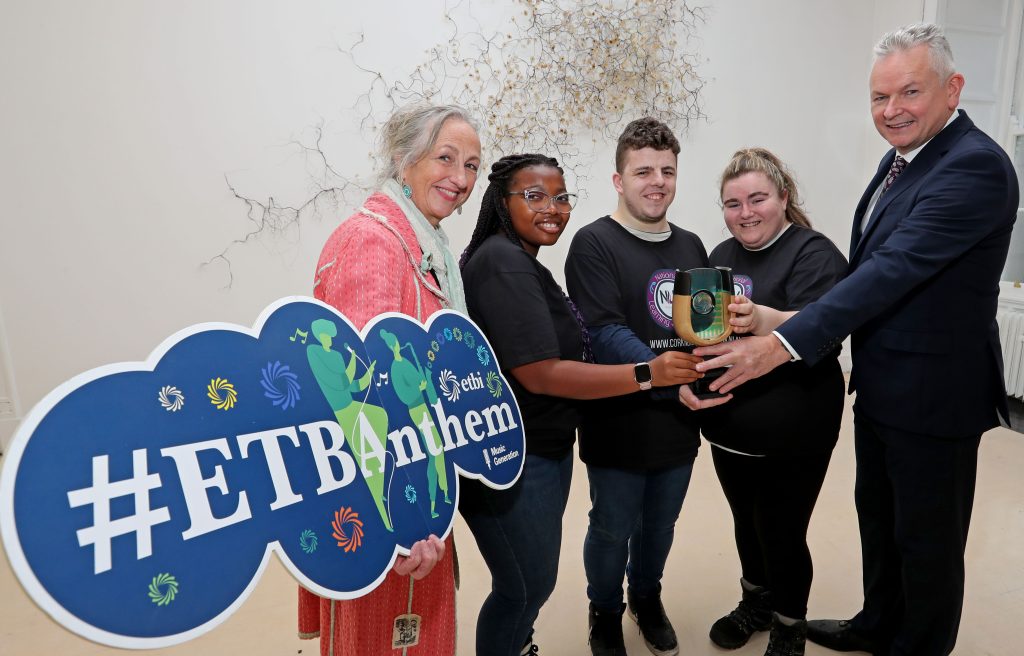 National Learning Network (NLN) Hollyhill provides a range of training, support and confidence-building skills to people who have had an accident, illness, injury or have a disability and extra support needs. In Find Your People, the young learners at NLN worked collectively to write lyrics, rap, sing and create an uplifting anthem that captures the essence of empowerment, inclusivity and lifelong learning within education and training boards, according to the judges.
Competition judge Bill Whelan, composer of Riverdance, commented, "It was a joy and an inspiration to see and hear the creative engagement of all the young music-makers who took part in this competition. Well done to the various winners and congratulations also to all at ETBI and Music Generation who made it possible. As a jury member, it was truly uplifting to be involved."
The winners experienced the thrill of recording Find Your People at Windmill Lane that, following its premiere tonight at the ETBI Annual Conference at Cork City Hall, will form part of a nationwide campaign to promote the services of ETBs. The track is now available on Spotify.
Speaking about the experience, NLN Cork learner Megan Collins said "I found the workshops good because we got to work together and talked about our experiences of finding our people in our training centre. We learnt lots of new skills like teamwork, song writing and recording music. We were delighted when we won the ETB Anthem competition and the trip to Windmill Lane was so good because it was a great experience, and it was cool to record in the same place as people like Lady Gaga. I felt nervous but excited about our performance in Cork City Hall"
General Secretary of Education and Training Boards Ireland Paddy Lavelle stated: "We're marking 10 years since the establishment of Ireland's 16 Education and Training Boards and what better way to celebrate than with this exciting and truly inclusive anthem Find your People: ETB schools, colleges and centres help learners all around the country to find their people and their learning pathways. I want to thank our project partners Music Generation, our competition judges and the ETBI-led team who worked so hard on this project."
---
Produced by CERTIBEATS; Christophe MARISMARI p/k/a Mentura (Collaborator)".
Created and recorded in collaboration with Windmill Lane and the Kabin Studio supported by Musical Neighbourhoods.
Performers/Learners Names:
Aine Casey
Alison O Keeffe
Chantelle Conway
Grace Forest
Jade Caplice
Jake Fallon
Kane Buckley
Megan Collins
Praise Iwuoma
Shane McMullen
                  
NLN Instructors
Stacey Bermingham
Adrian Brady
Laura Jordan
and Area Manager Eugene Higgins.
Mastered by Garry McCarthy
Photo credit: Jim Coughlan